Coffee is an essential part of the Brazilian identity, Brazil having been the number one coffee producing country since the 19th century.
Coffee is the beverage of choice for most Brazilian. Sao Paulo in particular is famous for its coffee shops. In fact, the city has over 25,000 coffee shops. Good cups of coffee are not only found in the specialty coffee shops. The local padarias (bakeries) and restaurants in each district have their own unique way of serving coffee with Brazilian pastries.
While in Sao Paulo, we stopped by several popular padarias and chain coffee shops where the prices of a cup of coffee ranges from R$2 (US$0.50) to R$6 (US$1.70). Here are 6 places for coffee in Sao Paulo that you can sample:
1. Paraiso neighborhood
Our morning coffee on the go came from Jennyfer Padaria in the Paraiso neighborhood. The cost was R$2 ($0.50) for the small coffee with sugar and R$5 for the big cup of dark coffee without sugar. Both were freshly brewed, strong and aromatic despite being served in styrofoam cups.
Location: Apeninos, 936 – Paraíso, São Paulo
2. Centro Sao Paulo
Casa Mathilde, a coffee shop in downtown Sao Paulo, was jam-packed with customers when we visited. Definitely a great environment to try a cup of locally grown coffee and taste the variety of delicious pastries baked on site. The trays of pastel de nata also known as pasteis de belem are worth trying. This pastry originated from Portugal and is made from the simple ingredients of egg yolks, cinnamon, sugar, flour, vanilla, butter, salt, milk, and water.
Location: Praça Antônio Prado, 76 – Centro, São Paulo
3. Liberdade, Japan Town
Brasil Cacau is a chain of coffee shops found throughout Sao Paulo. They specialize in chocolate and coffee. The company also owns Kopenhagen Chocolate, but Brazil Cacau is much cheaper than Kopenhagen. A cup of espresso curto (strong Brazilian coffee) or carioca (medium strong coffee) was R$2.90. We had these in Liberdade, Sao Paulo's Japan town. Coffee was served with a piece of Brazil Cacau's chocolate. Their main business is chocolate and candy.
Location: Galvão Bueno, 683 – Liberdade, São Paulo
4. Itaim neighborhood
Instead of coffee, we had hot chocolate at Kopenhagen in the Itaim neighborhood of Sao Paulo. This chocolate drink is topped with shaved chocolate. Every cup of coffee or hot chocolate comes with a choice of a wafer, chocolate or cookie. R$8.90 per cup.
Location: Rua Joaquim Floriano, 484 – Itaim Bibi, Sao Paulo
5. Mooca, Italian neighborhood
Drink espresso like the local Italians at Praca dos Paes in Mooca, an Italian neighborhood. Pair it with empada palmito (mini empanadas with palm of hearts), shown below. The espresso cost R$3.90 (US$1.10). It came with a cookie and a small glass of carbonated water like those served in Argentina and Uruguay.
Location: de Souza Fontes, 56 – Parque da Mooca, São Paulo
6. Downtown Sao Paulo
Aloha Coffee and Bakery in downtown Sao Paolo is a lovely place to hang out for breakfast or for a quick lunch. Aloha has a huge selection of bread and pastry. You have a choice of bread, cookies or pastries to accompany a good cup of coffee. Our cup of espresso came with a small cookie. Coffee is R$3.90 and each pastry is less than R$4. They serve buffet lunch upstairs with boatloads of sushi and feijoada. They also have a separate per kilo buffet (very popular in Sao Paolo and Rio).
Location: Rua Direita, 240 Sé, São Paulo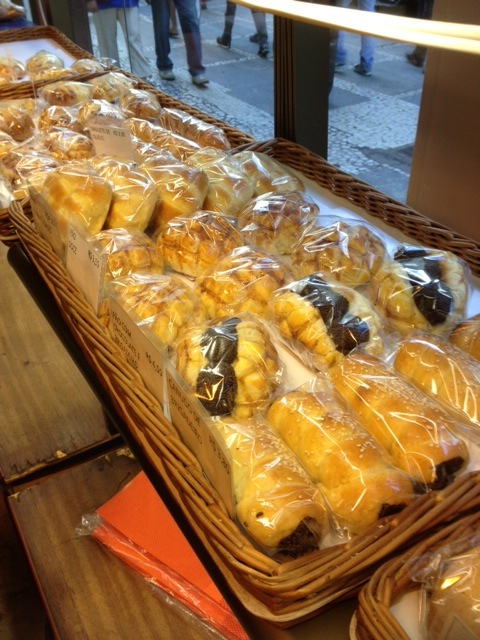 For history of coffee read The History of Coffee in Brazil.
Note: The original article was published on August 17, 2015.