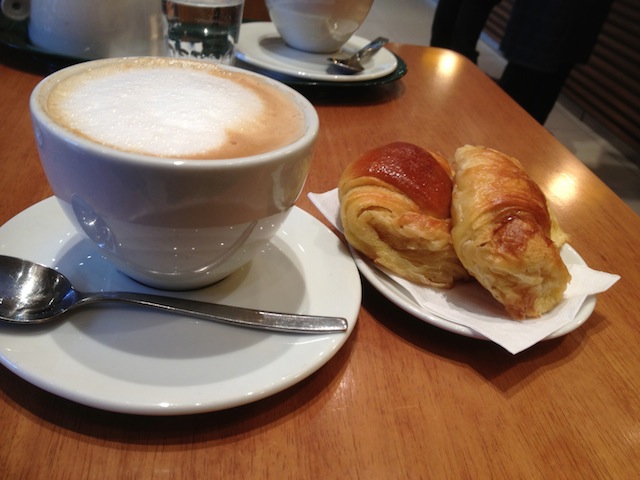 A good cup o' joe can make or break a coffee lover's day. Whether you are sitting on a plastic chair in Cuzco Peru or at a slick downtown café in Buenos Aires with knowledgeable baristas – a good cup of coffee does not only depend on the ambiance, view, price or the people who serve.
Come with us to 17 best coffee shops in South America and find out why they are worth visiting:
1. Emporio la Rosa, Santiago Chile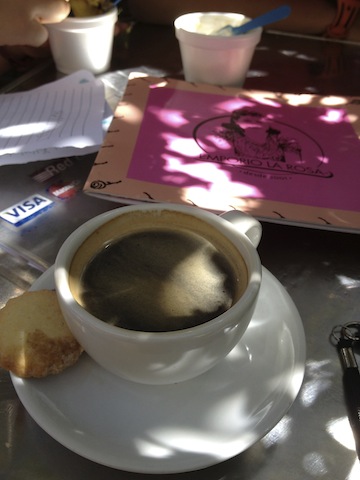 This was the café we had our first cup of real coffee in South America.
Emporio la Rossa serves espresso with a glass of water and a complimentary cookie. It started out as a gourmet food store and due to popular demand for freshly brewed coffee, tea and sandwiches the café side of the business was born. Most people came for the gelato when we visited on a hot afternoon.
Emporia del Rosa has a few locations. We were at the original location in Parque Forestal. It had an outdoor seating area under colorful umbrellas and short trees. My cup of espresso was hot, thick and served in a miniature sized cup with a saucer.
2. El Desayunador in Valparaiso Chile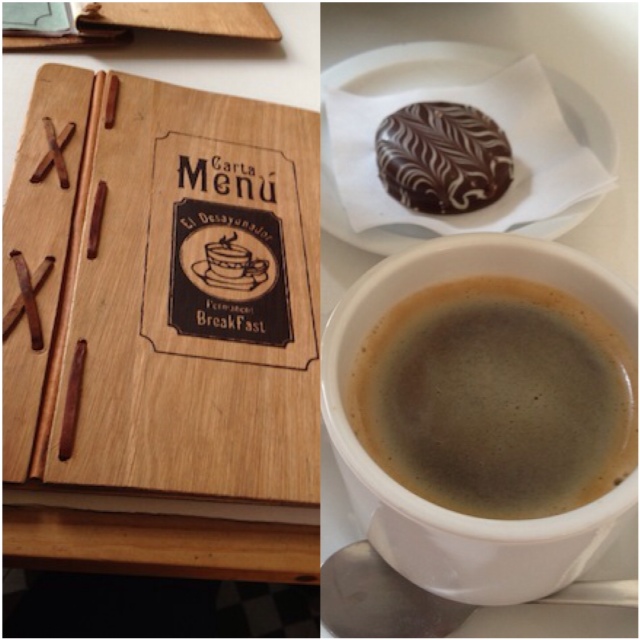 Cerro Conception and Cerro Alegre area of Valparaiso has many coffee shops catered to locals and tourists. One such place with a strong scent of coffee even from the outside was El Desayunador. They serve breakfast all day long. This café has rustic wooden chairs and tables.
The espresso came with a complimentary chocolate cookie.
3. History Coffee in Punta Arenas Chile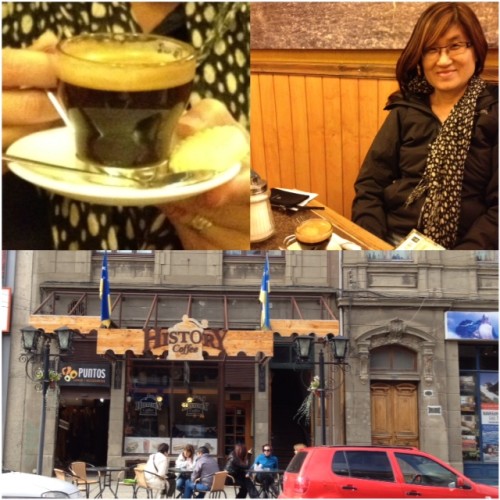 History Coffee was the best coffee shop in Punta Arenas, the southernmost city in Chile. There are many dining rooms inside, and the tables were mainly small round tables. With tables arranged close to one another, you'll need to whisper to your companion if you don't want anyone to hear your conversation.
The espresso came with a glass of water and a cookie. Free Wi-Fi was available to all customers.
4. Weskar Patagonia Lodge, Puerto Natales Chile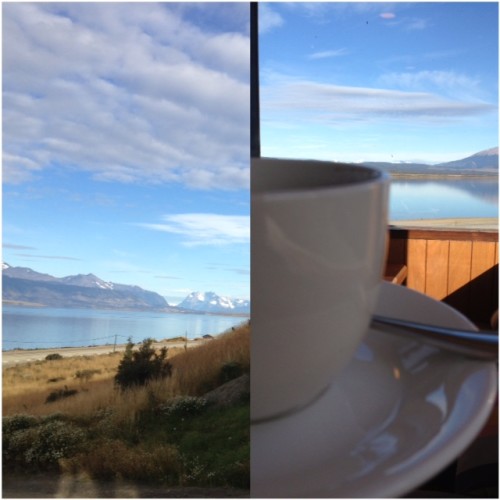 Every morning for five mornings in a row, we sat down with a cup of coffee and a view of Ultima Esperanza Fjord. The coffee was ordinary but the views made up the difference.
5. Cafe Blanco in Chiloe Chile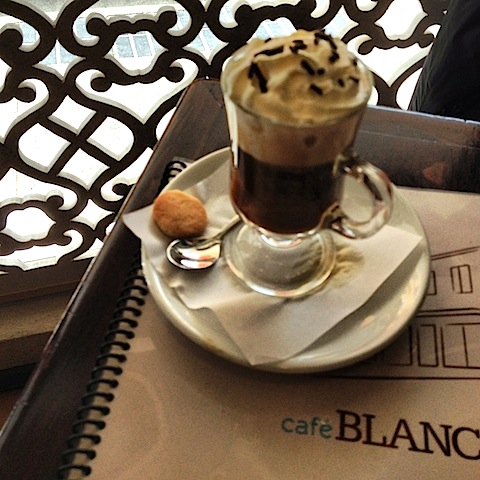 The Island of Chiloe is about two hours drive from Puerto Varas. Chiloe has more rainy days than dry days.
During our visit, it was foggy and rainy. The best way to make full use of our time in the rain was to hang out in a local café. Cafe Blanco serves cappuccino with a cookie. Their homemade desserts are a great accompaniment to the coffee. It is located a block from the Chiloe's main square.
Service was slow here.
5. Mamuschka San Carlos de Bariloche, Argentina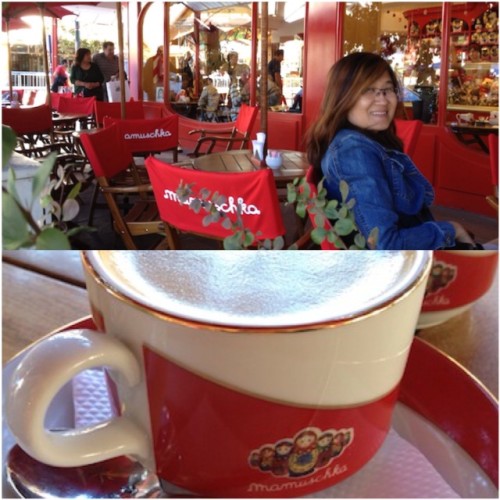 Mamuschka in Bariloche is a chocolate cafe and a chocolate shop. My espresso was served in a beautiful red and white cup and saucer with gold trimming. Mamuschka has the aroma of chocolate more than coffee. The outdoor seating with red umbrellas, red director's chairs, wood
The espresso was served in a beautiful red and white cup and saucer with gold trims. Mamuschka has the aroma of chocolate more than the aroma of coffee. The outdoor seating with red umbrellas, red director's chairs, wood tables, and plants was the place to relax and people watch.
6. Il Panino, Mendoza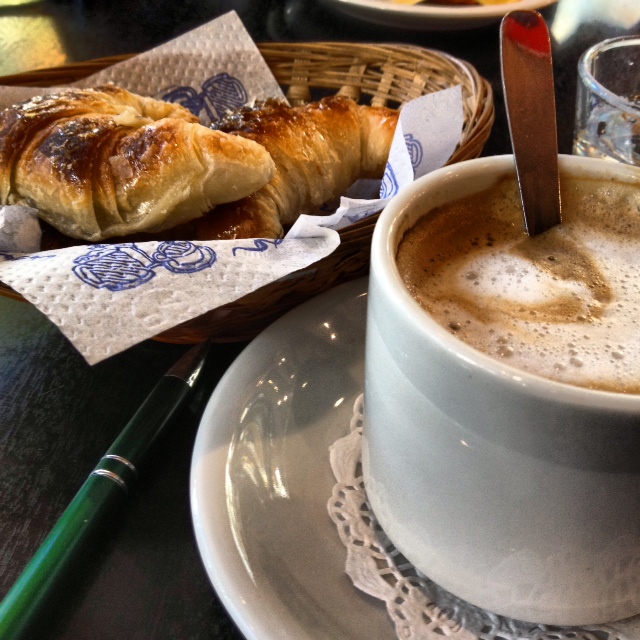 We loved the simple breakfast of espresso and two croissants at Il Panino. Located in the city center of Mendoza, this is a typical coffee shop in Mendoza. The croissants topped with sugar was the best accompaniment to a non-sugared hot cup of espresso.
7. Havana Cafe, Mendoza
Perhaps the best coffee was the strong espresso with condensed milk at the bottom at Havana Cafe.  Have the coffee with either a havannet or alfajor.  Mendoza's Havanna was the first of the many we visited in South America.
We had been to Havana Cafe throughout Argentina, Uruguay, and Peru (Miraflores).
8. Porto Vanila Montevideo Uruguay

Uruguayans have their teatime at 4 p.m. Cafes and restaurants have a special menu between the hours of 3-5 p.m. for tea and coffee drinkers served with sweet delicacies. Porto Vanila in Punta Caretas has hundreds of cakes, cookies, pies and sandwiches to choose from. The café's two floors of dining areas were always packed with locals.
9. Cafe Brasilero, Montevideo Uruguay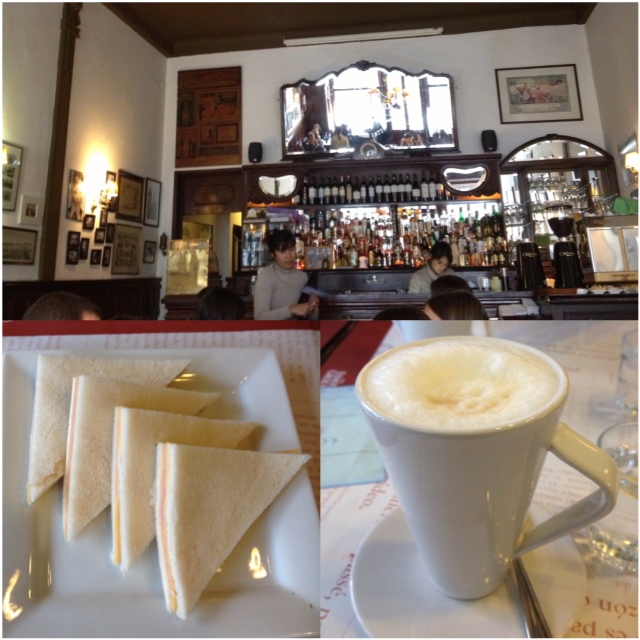 Café Brasilero is the oldest café in Uruguay located in the old part of Montevideo. We tried cartado, a frothy coffee with lots of milk.  This vintage style restaurant with old wooden tables and chairs has a different vibe than many cafés in the modern part of Montevideo.
Though pricey we think it is worth a visit if you are in Montevideo, either for breakfast or lunch. Make sure you order coffee too.
10. Take-out Coffee in Sao Paulo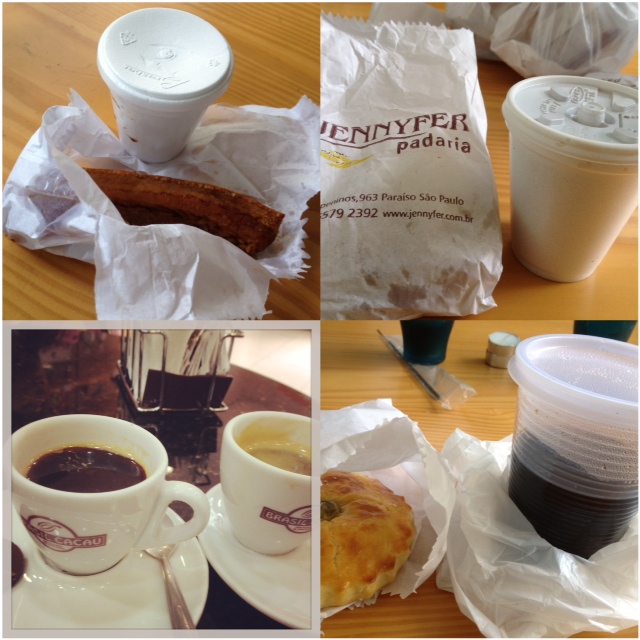 There is no lack of good coffee in Sao Paulo Brazil. Every restaurant and café has their own blend of coffee. In Sao Paulo coffee tasted really good regardless of how they served it. The photo above shows coffee served in plastic cups, styroform cups and beautiful espresso cups.
In Sao Paulo, the coffee shops also offer a variety of pastries and bread. We like the Torresmo ou pururuca (a piece of fried dried pork) with black coffee.
11. Coffee Museum Santos Brazil
A café inside a coffee museum in Santos with its own baristas, fresh coffee beans and coffee training school makes this place one of the most unforgettable coffee drinking experiences in Sao Paulo. We had a shot of
We had a shot of Chapadao do Ferro which was only filled half full in a tiny cup. The other coffee was Alta Mogiana. Both were gourmet coffee from Brazil.
12. Pergula Restaurant in Copacabana Palace Rio de Janeiro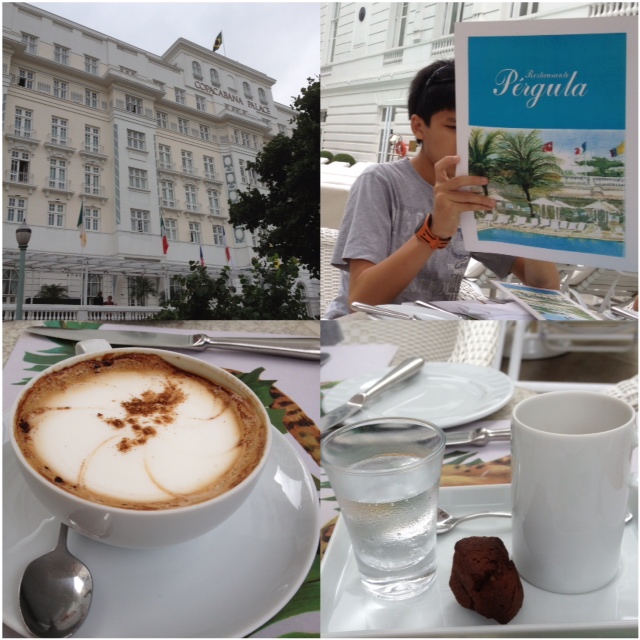 Get a cup of cappuccino or espresso with freshly baked goods and relax by the poolside restaurant at the legendary Copacabana Palace. It was a perfect way to end a long day of sightseeing in Rio de Janeiro. Make sure you bring a pair of sunglasses if you are going to dine at the poolside area of the Pergula Restaurant in Copacabana Palace.
13. Coffee at Asuncion Palace Hotel Asuncion Paraguay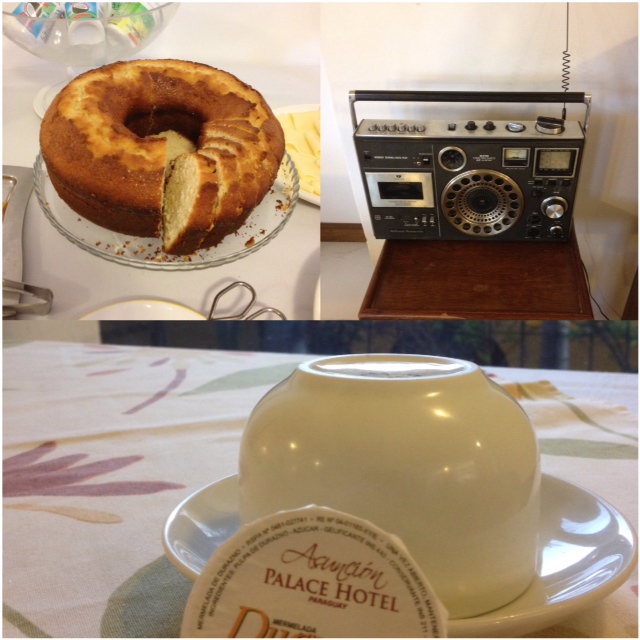 The Asuncion Palace Hotel was once the home of Don Carlos A. Lopez, the youngest son of President Venancio Lopez. Built by an Italian architect, Alessandro Ravizza, the hotel's dining room where coffee and breakfast were served still has its old colonial charm. The dining room had an old upright piano and antique radio. Their coffee is comparatively better than most hotels of the same class in South America.
Their coffee is comparatively better than most hotels of the same class in South America.
14. Minuteman, Tonito Hotel Uyuni Bolivia
In a land where there is no McDonalds or Starbucks, the best coffee I had was at Minuteman, Tonito Hotel in Uyuni. The owner's husband is American and the coffee is just like home – Americano coffee. The pancakes with dulce de leche and bagels with cream cheese were the best in that part of the world.
15. Jack's Cafe in Cusco, Peru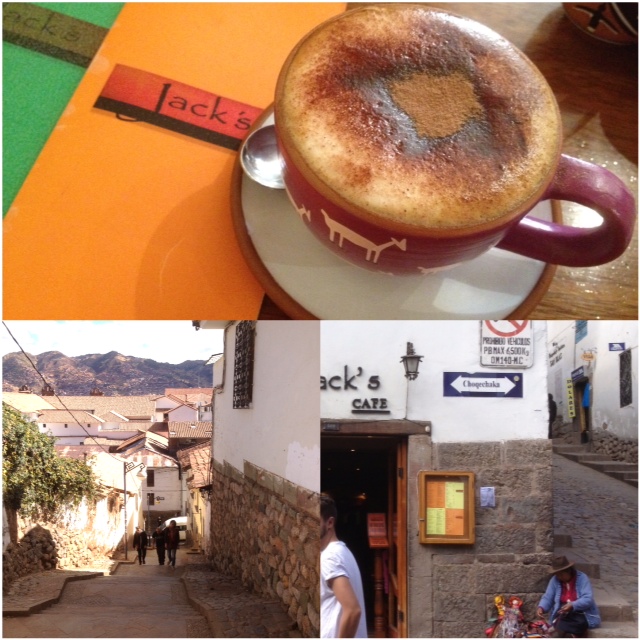 Everyone was talking about Jack's… so we went and were not disappointed at all with the cappuccino. The cappuccino was 5.50 soles (about $2). Jack's looked just like an American run café.
It was not very difficult to find a good cup of coffee in Cusco Peru. Choose between Starbucks and or the many more local run cafés with a view of the city's main square in Cusco.
16. Cusco Coffee Company in Arequipa, Peru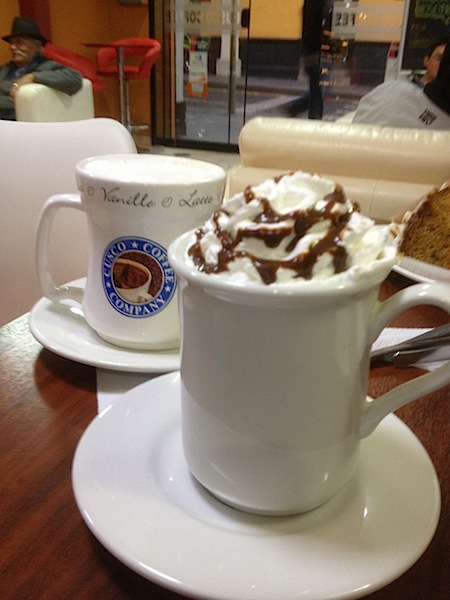 Cusco Coffee in Arequipa has a Starbucks feel to it. It offered free Wi-Fi, comfortable chairs and couches without the Starbucks price tag. The desserts were better than Starbucks like the freshly baked chocolate cake and carrot cake.
17. Hosteria Duran in Banos de Cuenca, Ecuador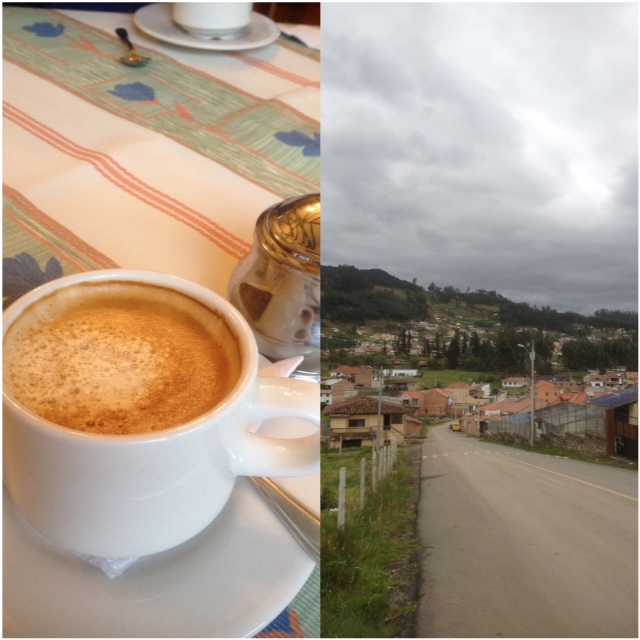 Banos de Cuenca is a small town, about a 15 minute drive from Cuenca. The town is made popular by the hot springs and thermal baths. There are not too many amenities and most restaurants only cater to the locals.
Hosteria Duran is the only decent hotel in town and the restaurant serves good quality espresso. We were there at 3 p.m. – the usual teatime and were the only guests. The place has free Wi-Fi and was only a 10 minute walk from our apartment.
Have you been to any of these coffee shops? Let us know.